Books That Changed My Beliefs: Peace Is Every Breath by Thich Nhat Hanh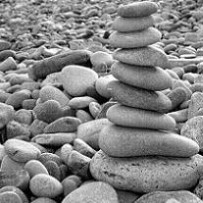 I haven't written about meditation before because up until now I believed that I couldn't meditate (in the traditional way I've read about). I have mastered silence in my mind and being silent, but I haven't mastered 'being still.' For this reason, I worked on it, like I worked on trying to develop my visualization skills, but neither have materialized!
But just as I learned that my gratitudes were prayers, now through this book, I have learned that they are also meditations, and so is conscious breathing without sitting still.
So, if you're like me and can't meditate in a traditional way, then this book is for you. The medical, mental, psychological, spiritual, and vibrational benefits of meditation have been well documented, even among the western medical community. It has healed illnesses and disease, isn't it worth another try?
Master Hanh refers to it as mindfulness. "Mindfulness is what brings us back in touch with what's happening in the present moment in our body, in our feelings, in our thinking, and also in our environment." Conscious breathing is the main technique and it is applied to many situations.
In addition, it provides much needed coping strategies we can use, and ones we can teach our children, for dealing with disturbing states of mind, painful emotions, and how to break habits of the mind. Developing these skills will increase our confidence in our ability to handle any situation!
Those of us who don't meditate either don't perceive they have the time needed, or they can't be still or silent their mind for any length of time. Peace Is Every Breath: A Practice for Our Busy Lives give us a new way to look at and practice meditation or mindfulness. Master Hanh provides us with verses and poems we can use with specific suggestions for when we can use them. And they only take a few minutes!
"When I became a young Dharma teacher, I tried to present Buddhism in a language that could be easily understood by people of my generation, and to present practices that could help them suffer less and have enough joy and peace to be happy and help others."
"In 1974 I wrote The Miracle of Mindfulness: An Introduction to the Practice of Meditation as a meditation practice manual for the SYSS members. I wrote that book to help peace and social workers nourish themselves with the practice, so that they could continue serving in a situation full of suspicion and violence." This book "is a continuation of The Miracle of Mindfulness and Peace Is Every Step: The Path of Mindfulness in Everyday Life .
"Mindfulness and concentration are the core energies of spiritual practice. We can drink tea in mindfulness, make our breakfast in mindfulness, and take a shower in mindfulness, and all of that becomes our spiritual practice, and gives us the strength to handle the many difficulties that can arise in our daily life and in our society."
"No matter what you're doing, you can choose to do it with your full presence, with mindfulness and concentration; and your action becomes a spiritual practice."
"All of us need to have a spiritual dimension in our lives. We need spiritual practice. If that practice is regular and solid, we will be able to transform the fear, anger, and despair in us and overcome the difficulties we all encounter in daily life."
This book is your path to peace and happiness.
May you perceive and receive all your blessings.
With Much Love,
Rev. Michele
Copyright © 2013 Indigo Sky, LLC; All Rights Reserved