As Divine Right Timing Would Have It: How Triggers Work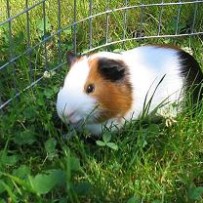 I know I promised the next article would provide suggestions for creating your own reminders and productive triggers, but the Universe had another idea. The Universe wanted to provide me with a first-hand encounter with being triggered to show you how triggers work!
I was just asked to cat-sit for my brother's girlfriend's cat while they go away. This triggered a fear response which I immediately reacted to and from.
Upon examination, I recognized the fear was triggered by a memory from high school. (I guess I haven't been asked to pet- sit in my home since then!)
Source Memory
The family I babysat for regularly went out of town. I was entrusted with the care of their dog, Bijou, at their house, and the girls' guinea pig, Snowball, at my house.
One day, my friends and I were hanging out and "playing with" Snowball and he fell over. We picked him up and he fell over again. We believed he had a heart attack. My friend Peggy tried to give it mouth-to-mouth but Snowball died.
How Triggers Work
A person who pushes your buttons knows some of your triggers. They know what sets you off.
Triggers can be activated by any of the five senses. (I still get a sick stomach when I smell Tequila!)
Our senses trigger reactions and memories.
The reaction can be:
Biochemical

Emotional/Psychological

Mental

Physiological

Neurological

Hormonal

Behavioral

Physical

Vibrational
Only the most evolved people are free of them, as they have healed all the wounds of their past, and have evolved their needs and their perceptions.
You see, triggers will continue to happen and reacted upon until examined. This is a wound of the past popping up to remind you that 'this could happen again.'
Any source memory of fear, pain or hurt, triggers a reaction, a subconscious reminder, for self-preservation to prevent the same thing from happening again.
This makes sense but once you apply further logic to it, you can show yourself how minuscule the likelihood is that it could happen again.
You are not the same person as you were then. The other person or people involved are either changed since the original occurrence or they are different people altogether and therefore, you cannot predict an outcome.
You have to begin to recognize when you're being triggered and by what: recognition is usually enough to start healing it. Call it out!
The Examination
In my case, the fear triggered a question of my level of responsibility; my stewardship. Here's how the logic unfolded for me:
It was in no way my fault.

It was just his time.

I've always been responsible and dependable, fulfilling my obligations and expectations of performance with jobs I took on.

Perhaps he volunteered to be the girls' first experience with death.

I have been a cat-'owner' for many years. People have called me the cat-whisperer!

There is no need for fear. I trust that everything happens for a reason.
Why Should I Get Rid Of My Triggers?
The trigger works like a filter that only lets in that which supports the reaction. (psychological imperative and/or unhealthy ego)
Being triggered can interfere with your perception of what transpires. Words plus body language, facial expressions, vocal tone, and use of inflection/emphasis can be misinterpreted.
Being triggered can negatively impact your relationships because of the behavior that follows.
Continuing to have triggers means we are letting our subconscious programming for self-preservation interfere with us having peaceful, productive relationships and personal well-being.
How to Use This Knowledge to Our Benefit
Since we're suggestible to these subconscious triggers, why not choose to create our own? But ours will trigger a reminder to use new, healthy, productive, and conscious responses.
The next article will provide you with suggestions for portable reminders, and some positive triggers will be suggested (implanted in you brain) to aid in the remembering to hold your intention.
May you perceive and receive all your blessings.
With Much Love,
Rev. Michele
Copyright © 2013 Indigo Sky, LLC; All Rights Reserved