Where Is Love? An Add-On to the Evolving Needs Chart and Unconditional Love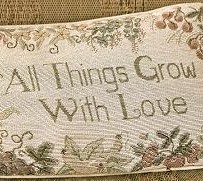 Last night, after I finished my post, I spotted my print copy of the evolving needs chart. On the top of it I had written, , circled and highlighted "Where is Love?"
It wasn't in the chart because it is not specific. However, feeling loved is most definitely a basic need that adds to self-esteem/confidence. But love is a behavior, or rather a collection of behaviors or actions, not one specific thing.
All the needs that are received, taught and allowed are acts of love.
Here is how it looks in the chart:
| | | |
| --- | --- | --- |
| Basic Needs (DH) to Live and Survive Dependent | Advanced Needs (DH-IH) to Evolve and Thrive -Choice and Control | Evolved /Spiritual Needs (In a perfect world, can begin in DH and continue through IH) |
| Receiving Love | Giving Love to Self and Others | Loving Life, Reverence for all life |
Sadly, all love is not unconditional, and unconditional love is a much greater teacher.
If I added it to the chart above, I would just be adding one word to the basic needs and advanced needs sections, but the effect it would have would be dramatic. It would:
impact how we love ourselves and others
hasten our progress of getting to your evolved/spiritual needs
Being able to love unconditionally can only be learned through experience (by receiving it) or through the conscious evolution of your needs and your beliefs, which affect your thoughts and behaviors. Refer to my realizations posts to learn many of the beliefs that are required. You will know which ones apply.
The behaviors of unconditional love, however, require a lot more. Unconditional love is:
eternal, guaranteed
without limitations
non-judgmental
always forgiving
always accepting
capable of surviving betrayal, disappointment and hurtful words
May you all know what it is to be loved unconditionally, and learn how to love yourself and others unconditionally along with all life.
May you perceive and receive all your blessings.
With Much Love,
Rev. Michele
Copyright © 2013 Indigo Sky, LLC; All Rights Reserved