Sowing the Seeds Within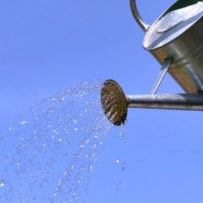 In Creating True Peace : Ending Violence in Yourself, Your Family, Your Community, and the World, Thich Nhat Hanh talks about us all having seeds that we carry within us, and that it is our choice which seeds we choose to water. He divides the seeds into two categories: compassion and violence.
The seeds of compassion include the seeds of understanding, forgiveness and mindfulness.
The seeds of violence include the seeds of ignorance, fear and hatred. (I would add anger.)
Which seeds are you watering, consciously or unconsciously?
We all have internal and external environments that must be tended to consciously sow productive seeds.
Our internal environment includes our reactions, words, behavior, thoughts, and feelings.
What thoughts are in your mental 'loop' and what thoughts occupy your quiet time?
Do you use negative language?
Our choices of leisure activities feed our internal environment. Music, reading, television shows, and movies all have a tone.
Are your choices inspiring? Are they helping you to grow or to awaken, or gain understanding?
You can choose ones that inspire new ideas, new beliefs, imagination, and wonder, or you can choose ones that reinforce fears and anger.
Our external environment is our physical surroundings, which includes our homes, our place of employment, and the company we keep.
Is your home your sanctuary; a place that inspires peace?
Are the people in your life contributing to your growth or are they keeping you stuck in old beliefs and patterns?
If you are reactionary, you are unconsciously watering unproductive seeds.
Master Hanh suggests eliminating any activity, thing or person who is not helping you water the seeds of compassion. This will be easier with things and activities than with people, although habits are not that easy to break unless you have a replacement ready.
If the people that cause you to water seeds of fear and anger are integrable parts of your life, you can choose to not engage in situations causing these responses. You can set an example and tell them you will no longer water the seeds of fear and anger with these types of exchanges, and then walk away.
If we wish to eliminate violence in the world, we must first eliminate it from each one of us by sowing only the seeds of peace, compassion, love, understanding, and forgiveness within ourselves.
Becoming conscious of how your internal and external environments affect you is the first step in making them healthy and productive. Mindfulness first!
If you need help restructuring your environments, let me know. I'm happy to help.
May you perceive and receive all your blessings.
With Much Love,
Rev. Michele
Copyright © 2012 Indigo Sky, LLC; All Rights Reserved