No Expectations, No Disappointment!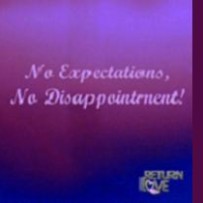 This was my first motto or mantra for conscious reprogramming.  
I got really tired of the pain of disappointment.
My experience guided me to believe that there were few people in this world who could be counted on 100% of the time and who were impeccable with their word.
I Keep My Expectations To My self, My Self And The Universe,
and Away From Other People and Plans.
No Anticipation.
No Looking Forward To Specific Outcomes.
No Assuming.
I get to be pleasantly and gratefully surprised by people while avoiding the hurt of disappointment.
Maybe this is the right approach or philosophy for you?
If you want to continue to expect the best in people, it is in your best interest to detach from outcomes.
Expect the Best. Plan For The Worst.
May you perceive and receive all your blessings.
With Much Love,
Rev. Michele <3
(P.S. This DOES NOT APPLY to parenting or teaching.)
Copyright © 2015 Indigo Sky, LLC; All Rights Reserved