Gifts from Out of the Blue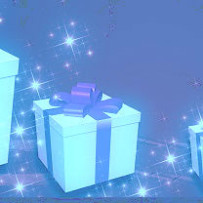 Gift #1 – 1991
At the age of twenty-nine – a particularly low point in my life – the Universe saw fit to deliver unto me nine self-awareness assignments. These tasks probably saved my life, but they definitely changed my life and my perception of it, which provided desperately needed "sanity."  They put me on a trajectory of inquiry; of the self, the Self and the Universe.
I did all the basics and worked on some of the 'steps' as related things arose. In addition, I began reading non-fiction voraciously and wrote in a journal regularly: both of which answered many questions for me.
1994
It wasn't until after my best friend killed herself five days after my 32nd birthday, that I felt more inclined to work on myself. The following year, a series of introductions led me a new group of friends in the heavy metal community. There I found "home" and had more opportunities to grow with authenticity in a safe and supportive environment.
Gift #2 – Sometime in the Mid-Nineties
A strange word –a combination of two words actually – popped into my head, out of the blue. (It was audio only.) Although I had no idea what it meant at the time, I wrote it down and kept it, guessing at its spelling but never guessing at its' meaning.
Gift #3 – 2004
In a time of significant stress and impending, unwanted change at work, I was delivered a personal and portable reminder and a declaration of intent. I wrote it on one half of an index card; small enough to keep in my pocket. Just feeling it served as enough of a reminder after a short while.
At that time I worked as part of district-based special education classroom team -Language Enriched Academic Development (LEAD class) – and acknowledged that the state of mind and the behavior of my teammates could also affect me. No matter how good our intentions were, emotions could easily sidetrack us and it was of the utmost importance to me that the students got whatever they needed, as always, in the three months we had left together.
So, I ended up sharing it with my teammates.
When necessary, I would pull one of them into the back office or into the hall. I would explain what I had written and why, and ask them to read it aloud with me. This served to refocus and rebalance us, so we could return to do the best job possible.
Later in 2004, I resigned from my tenured job.
In 2005, I got ordained as a spiritual-interfaith minister to boost my credibility and be able to offer counseling without getting another degree. (Most of my post graduate work was in psychology due to the population with which I worked. The expertise I gained through seventeen years of behavior management and self-esteem boosting that lead to behavior modification with toddlers, preschool and school-aged students on the severe end of the autism spectrum and ones with vast special needs gave me a unique perspective.)
Stay Tuned for  the Continuation:
2007 – The Purpose of the First Three Gifts Revealed
If you have any comments or questions, please leave them below.
(I reply to all comments personally!)
May you perceive and receive all your blessings.
With Much Love,
Rev. Michele
Copyright © 2017 Indigo Sky, LLC; All Rights Reserved