Books That Can Change Your Life: The Game of Life and How to Play It by Florence Scovel Shinn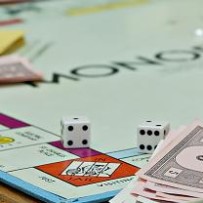 This book was recently recommended to me by a close friend who is at around the same place on his journey as I am on mine. He was using many of the affirmations provided in this book to help him through a particularly trying time.
Until I read this book, I was under the impression that Louise Hay started it all for the field of personal, metaphysical transformation and spiritual growth, but apparently it all started a long time ago. This book was originally published in 1925!
After further research, I found that Louise Hay credits Florence Scovel Shinn for inspiring her at a key turning point in her early career. An American spiritual movement called New Thought began in the late 1800's and was one of the new schools of thought that grew out of the work of Ralph Waldo Emerson and his way of thinking in the mid 1800's. (How clueless was I?)
"The Game of Life and How To Play It: Revised Edition is a series of actions you can take to move from a life of lack and dis-ease to one of well-being in the four main areas of life – Health, Wealth, Love, and Perfect Self-Expression – through mastery of Spiritual Principles."
And "…it gets simpler as we move from level to level…"
This book provides principles to live by, affirmations for the four main areas of life, and exercises at the end of each chapter to move you from one level to the next.
It will guide you to "…let go of the thoughts and feelings that no longer serve (you) and shift (your) attention to the ever-present good that surrounds and sustains us all."
The copy of the book I purchased (from my book club) is a combo of the original book and an updated, more contemporary version, edited by Rita Miller. I have to admit that I only read the updated version, it was first, and got so much out of it that I haven't read the original yet.
Ms. Shinn's point of view and method of teaching is definitely on par with Ms. Hay's. I'm so grateful that this book came to me because I now know that she has other books that I really look forward to reading, especially Your Word is Your Wand. (I love the title!)
May you perceive and receive all your blessings.
With Much Love,
Rev. Michele
Copyright © 2013 Indigo Sky, LLC; All Rights Reserved