Better Than Self-Esteem: Gaining Self-Acceptance Steps 1 and 2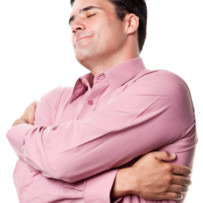 Are you, shy, insecure and/or self-conscious? Do you lack confidence? Do you still hear the names you were called as a child in your head? Do you say them to yourself? Are you self-critical? Are you still carrying the pain or anger of being picked on? If you answered yes to any of these questions, then this exercise is for you.
I used this method myself when I was at the very lowest point in my life. I was feeling hopeless and very depressed.
I used this method myself when I was at the very lowest point in my life. I was feeling hopeless and very depressed.  Some inner guide delivered this to me to improve the way I felt about myself, which would ultimately improve the way I felt about my life.
It freed me from my self-imposed prison of insecurity, self-consciousness and self-criticism/abuse. This was the most important growth-work I have ever done. It changed everything! May it do the same for you. (I believe I was given this exercise so I could share it with others.)
Names and criticisms can't hurt you when you are self-accepting, so please share this information with children and teens. It will help them avoid so much pain. Therefore, these exercises can be (and should be) used by adolescents, and can be made into games or used as discussions points with younger children with a focus on the positives. (For example: Play a fill–in-the-blank game taking turns. I like to _____.  I am good at _____.  I feel happy when I'm ______ing. )
When doing it with adolescents, may I suggest that you do it with them. Make your list with them as a model and to make them feel less self-conscious about sharing, and it will probably bring you closer. Then make a list for them, sharing your view of their strengths and flaws.
The earlier one develops self-acceptance the safer they will be from outside influences (peer pressure) and the earlier they will have the ability to make healthy decisions that serve their best interest, because they believe they are deserving or worthy.
It is essential that you be completely honest with yourself while doing this exercise. As Dr. Phil says "You can't change what you don't acknowledge."
You may want to use a new, special journal to begin this new way of feeling about yourself. This will be the start of a new chapter in your life, so why not mark it with something special.
You will want to keep the work you do with this exercise, as you will find yourself changing it and adding to it for a long time to come. In addition, it will be a record of your personal-growth accomplishments.
Use a separate page for each list.
The first part is easy, because if you're in need of self-acceptance, it means you don't like yourself very much, which means there isn't much about yourself that you approve of or enjoy.
List #1: Make a list of all the things you don't like about yourself. (The list will include things you don't like about the way you look, think, feel, and act, things you're afraid of and afraid to do or try, and so on. Be as specific as possible. Do not use the phrase "I am" when describing yourself: this implies a permanent state of being, a label, and you will see that most of the items on your list will be changeable -some of your physical attributes may not be.) You may continue to add to the list as things you've forgotten or didn't realize come into your awareness.
List #2:   Make a list of the things you like about yourself.[1] This will probably be a much shorter list than the first one. (For now!) As you accomplish removing things from list one (Step 4), you will start to see new things that you like about yourself. Add these to List #2 and date them.
Once you have a reasonably-sized list, take a look at what's on it and see if you can identify a pattern or be able to categorize the items. This can direct you toward your purpose and your bliss (steps 7, 8 and 9).
This post is the follow up to What is Preventing You from Reaching Your Potential? – The Power of Self-Acceptance.  Please check it out if you want to see all the benefits to doing this exercise.
I would love to hear back from you to let me know your results and to inspire other readers to give it a try.
When you are done with this part, go on to Step #3.
May you perceive and receive all your blessings.
With Much Love,
Rev. Michele
Copyright © 2012 Indigo Sky, LLC; All Rights Reserved
[1] This is something we rarely, if ever, think about. I often wonder if it's in our nature to only focus on and think about what's wrong or missing. Perhaps it's because most of us have heard more criticism than validation, or because it would seem conceited. Regardless of why, by spending some time thinking about what is good about you, you will raise your vibrational frequency and become aware of all the good within you.