An Example of Everything Happens in Divine Right Time and Divine Right Order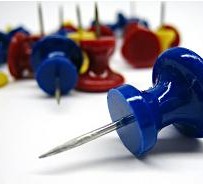 Before bed on Saturday night, August 18th, I was reading pages 233-237 in A Return to Love: Reflections on the Principles of "A Course in Miracles."
On these pages, Marianne Williamson talked about an experience she had relating to a need for healing. She talked about not being able to receive instantaneous healing because she was not at a level in her awareness and beliefs that she could accept it. So, the Universe sent her healing in another way.
On Sunday, August 19th, I was home alone working. I have 2′ x 3′ double-sided white and bulletin board. I never hung it because I use both sides, so it's only propped up on a box on the top shelf of a 3-tier bookcase.
I was putting tacks in all the loose papers so I could flip it over and use the white board, and it fell. It slid down and pinned my right hand between the board and the bookcase, and a push pin was lodged into my middle finger supporting the entire weight of the board.
I began thinking: My beliefs are at a level that can support instantaneous healing. So, I expect and demand instantaneous healing.
I didn't know which side of the push pin was impaled in my finger: the sharp, metal point or the wide, plastic top. I knew the plastic side would not be good.
Anyway, I put the other pins that were in my left hand back in the tin and slowly tried to lift the board.
Papers flew, pins rolled, and two papers with a pin through them were attached to my finger. Yea, metal side!
The whole pin had pierced my finger.
I ran  it under cold water immediately (apologizing for wasting water!) and put a Band-Aid with antibiotic ointment on it.
There was no blood and no pain at any point.
Twenty four hours later, there was only a small spot to prove that anything even happened.
I proved to myself that with belief, everything is possible!
There is divine right timing in:
–         The books and the sections of the books we read.
–         Things and people we "stumble on."
Follow the flow, connect the dots, and see how the universe has guided you to where you are, unless you resisted or ignored the sign-posts. Resistance is futile and unproductive. You have free will of course, should you choose to resist, but resistance causes most of your suffering.
Be non-resistant! Be open! Anything Is Possible!
May you perceive and receive all your blessings.
With Much Love,
Rev. Michele
Copyright © 2012 Indigo Sky, LLC; All Rights Reserved