9 Ways You Can Express Your Gratitude For Return Love! :)
I am grateful to share with you the messages and inspirations I am delivered to aid in your learning, growing, healing, and awakening!
My intention is to brighten your day, bring you a sense of inner peace, offer you a new perspective, or improve the quality of your life in some way.
This past year has been amazing. If you've gotten even half of what I have out of it, my mission has been successful!
If you would also like to enjoy the gift of giving and help keep Return Love and Rev. Michele's mission going, please consider the following:
Shopping on Amazon  [As of 7-28-14, this is no longer an option.]
Making a donation (Even $5 makes a difference! You can send money via Paypal from one email address to another: Michele [at] returnlove.org
Telling friends about Return Love.
Recommending Rev. Michele to your friends who need guidance, counseling, coaching, or advice.
Leaving comments or sending emails and allowing them to be posted, testifying as to how Return Love has helped you.
Sharing Return Love emails with your friends, family, or website visitors.
Sharing your favorite Return Love quotes on Facebook and Twitter (twitter.com/ReturnLove_org).
Linking to http://ReturnLove.org from your website, blog, or mailing list.
Putting Return Love into your prayers.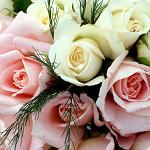 May you perceive and receive all your blessings.
With Much Love,
Rev. Michele